YEP TANZANIA activities in Arusha during COVID-19 pandemic
COVID-19 in Tanzania
Half of March 2020 the first official case of corona was confirmed in Tanzania. Schools and universities were closed, but most of the public places were kept open, and the government didn't declare a lockdown. However, due to the closing of airports, many Arusha business man – and women were heavily affected as the economy of Arusha is for 80 – 90 % directly or indirectly depending on tourism. Many entrepreneurs saw their business coming to a standstill and started looking for other business opportunities.
The airports of Tanzania have been re-opened recently, but for now only few foreigners come into the country.
What did YEP Tanzania do in Arusha during COVID-19 to support YEP beneficiaries?
End of March we stopped doing our regular physical coaching and monitoring visits. Instead of that, we established a digital helpdesk. Representatives of the program partners, being YEP Tanzania, Trias Tanzania and TCCIA Arusha participate in the weekly calls. During 3 hours in the morning on Tuesday and Thursday the teams are free to discuss the questions of YEP beneficiaries, who also participate in the call. The calls are done through what's app. This turned out to be a very helpful and efficient way to advise the entrepreneurs during this challenging time.
One of the YEP beneficiaries started producing sanitizers and masks. Through his connection other YEP beneficiaries who saw their business disappear can act as an agent and sell the sanitizers in Arusha and other places in Tanzania, such as Misungwi, Mwanza region.
Some of the YEP beneficiaries who have a tailor shop started making fabric masks.
Due to the COVID-19 outbreak we had to cancel our physical kick off event for the start of the new program. Instead of that, we created a what's app group with all new students (90% of them has a smart phone). Together with Trias and TCCIA Arusha we shot introduction video's in which we introduce our organizations and ourselves in the digital kick off.
Furthermore, in order not to have too much delay in the program, we started recording the first basic bookkeeping classes and shared them online in the what's app group. The first batch of video's consists of introduction to financial management, basic recordkeeping, an assignment on this topic and the answers. All video's are around 5 minutes.
Also in the whats app group the students share their questions on the lessons and our YEP teacher is 24/7 available for answers.
The students start keeping their records as from now, and in 4 weeks we will analyze their books and start physical feedback classes, in small groups, according to their level of understanding and business.
Lastly we still continue our regular coaching and monitoring meetings, but mostly through phone.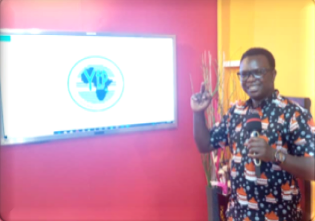 YEP TANZANIA activities in Misungwi during COVID-19 pandemic
Milling machine station
The milling machine business is operated by our two entrepreneurs Faustine Martine John and Simon Daud. They started together after joining the YEP program and saw that working together is an opportunity to them because they can share experience. They officially opened their business 7 April 2020 after facing different challenges.
Although also Mwanza was affected by COVID-19, this didn't affect the milling station business. Their business was running normally and attracted many costumers. This is because of the good business location; their business is located at the village and there is not much competition.
Masks
During in COVID 19 we support some of the YEP Tanzania beneficiaries who have a tailor shop by giving knowledge how to make masks and motivation about making masks. The YEP team did this by online whats app calls. The entrepreneurs started making fabric facial masks of good quality, and they got a tender of supplying fabric facial masks to a college called Elabs institute of technology. This was a good deal, and furthermore they sold 200 masks to individual students of two colleges in Misungwi.